Information

Milan - Cedera Alexandre Pato membuat AC Milan mengalami krisis striker. Untuk menghadapi Siena akhir pekan ini, Rossoneri terpaksa mempromosikan pemain junior yang belum pernah merumput di Seri A.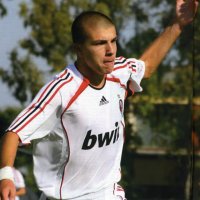 Adalah Alberto Paloschi yang bakal dipromosikan ke skuad senior Milan akhir pekan ini. Striker 18 tahun itu hampir bisa dipastikan akan diturunkan Carlo Ancelotti karena cedera yang menghampiri barisan pemain depan Rossoneri.
"Kami sudah memanggil Paloschi dari Viareggio dan kini dia sudah berlatih bersama tim utama," ungkap Wakil Presiden Milan, Adriano Galliani di Goal, Rabu (5/2/2008).
Menyusul cedera Pato saat mengantar Milan menundukkan Fiorentina pekan lalu, Milan kini tidak lagi punya striker murni. Saat Filippo Inzaghi dan Ronaldo belum pulih dari cedera, Alberto Gilardino justru dipastikan tak akan merumput karena larangan bertanding.
"Itulah sepakbola. Kondisi ini terjadi saat Alberto Gilardino mendapat kartu akibat sesuatu yang sepele dan di saat bersamaan Pato mengalami cedera sementara Pippo Inzaghi dan Ronaldo juga masih absen," lanjut Galliani.
Nama Paloschi sebenarnya tak terlalu asing musim ini karena dia sempat mencuri perhatian saat dimainkan Ancelotti di Copa Italia bulan Desember lalu. Meski Milan akhirnya tersingkir oleh Catania, striker 18 tahun itu mampu mencetak satu gol di kedua leg.
Masalah Milan sebenarnya tak terbatas pada lini depan. Di barisan gelandang Kaka, Clarence Seedorf hingga Gennaro Gattuso juga mengalami cedera ringan namun belum bisa dipastikan apakah akan bisa merumput dalam waktu dekat.
_________________
You Will Not Know What Bond That Keep My Heart to You............
Moderator







Number of posts

: 600


Age

: 27


Address

: BogoRGakurE


Hobbies / Jobs

: The Elite Shinobi in BogorGakure............


Favorites

: Gain The Medallion of Karabor


Status

: Lagi Mengemban Misi Elite


Today\'s Feeling

: naik Tingkat jadi Taichou........


Motto

: Protect The Country, Forget Your Life


Reputation :

3


Rep. Power :

124713


Member Since :

2008-01-09

---



Menurut berita yang gw denger ,, Inzaghi dan Ronaldo dah sembuh buat maen akhir pekan ni lawan siena,,

_________________
Visit My Blog
->
Irfantr.blogspot.com
Administrator







Number of posts

: 1427


Age

: 27


Address

: غنبت ملن


Hobbies / Jobs

: فُتسال


Favorites

: Permen Formalin,,


Status

: افالحا


Today\'s Feeling

: Like Tomorrow


Motto

: \"Aku Mencintaimu karena agama yang ada padamu, Jika kau hilangkan agama dalam dirimu, hilanglah cintaku padamu\"(Imam Nawawi)


Reputation :

0


Rep. Power :

124740


Member Since :

2008-01-08

---




---
Permissions in this forum:
You
cannot
reply to topics in this forum